In the hotel furniture market, most wooden furniture made by
Engineered wood
, also called composite wood, man-made wood, or manufactured board.
Typically, engineered wood products are made from the same hardwoods and softwoods used to manufacture lumber. Sawmill scraps and other wood waste can be used for engineered wood composed of wood particles or fibers, but whole logs are usually used for veneers, such as plywood, MDF or particle board.
These products are engineered to precise design specifications which are tested to meet national or international standards.
1) Medium-density fibreboard (MDF)
is made by breaking down hardwood or softwood residuals into wood fibres, often in a defibrator, combining it with wax and a resin binder, and forming panels by applying high temperature and pressure.
2) Hardboard
, also called
high-density fiberboard (HDF)
. is a type of fiberboard,It is similar to particle board and medium-density fiberboard, but is denser and much stronger and harder because it is made out of exploded wood fibers that have been highly compressed.
3) Plywood
is a sheet material manufactured from thin layers or "plies" of wood veneer that are glued together with adjacent layers having their wood grain rotated up to 90 degrees to one another.
4) particle board
,
low-density fibreboard (LDF)
, and
chipboard
– is manufactured from wood chips, sawmill shavings, or even sawdust, and a synthetic resin or other suitable binder, which is pressed and extruded. Oriented strand board, also known as flakeboard, waferboard, or chipboard, is similar but uses machined wood flakes offering more strength.
All of these are composite materials that belong to the spectrum of fiberboard products.
5) blockboard
, strips of softwood sandwiched between two plywood skins, with wood strip inserts.
6) rubber solid wood panel
, made from rubber solid wood with finger joints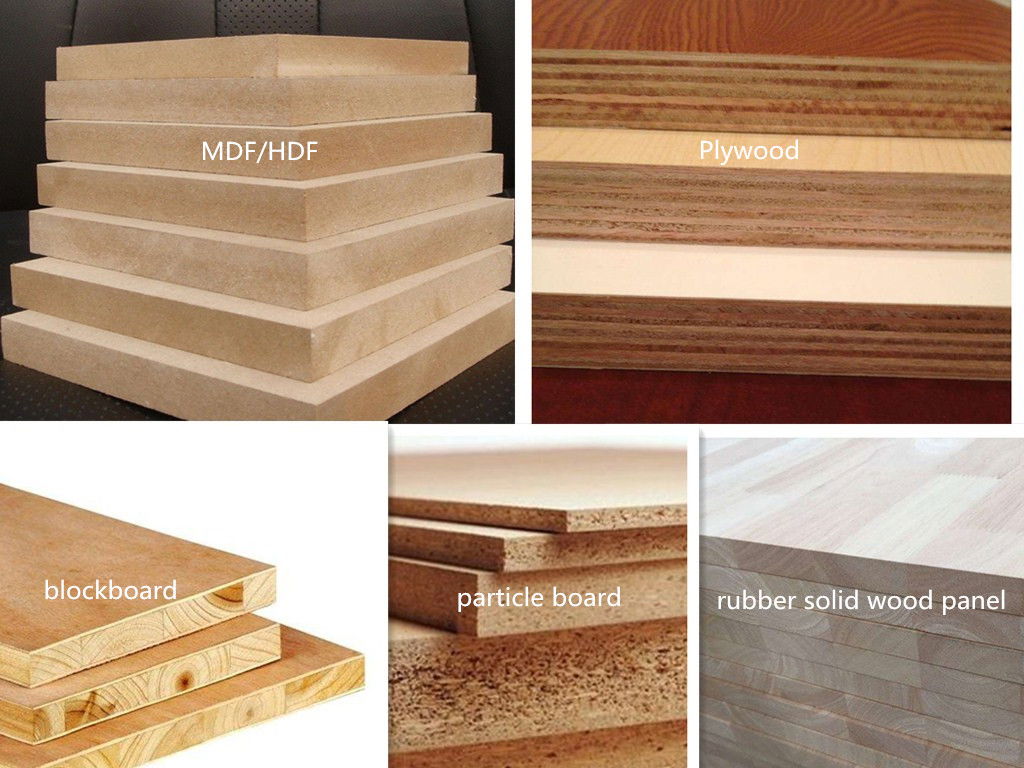 Unlike solid wood, Engineered wood is very homogeneous with no grain. A wood veneer can be glued onto it to give the appearance of solid wood. Other overlays include Formica, laminated papers, ceramics,and vinyl.